Welcome to the Irish Mini Owners Club Forum. Keep an eye out of on coming events!!!!
Moderators: spud1979, The Marcos Graveyard, admin, Moderators
NON Member
Posts: 2116
Joined: Tue Jul 18, 2006 11:15 pm
Whats your location?: Dún Laoghaire, Dublin
Region: Eastern
What Minis have you?: '93 SPi cooper
Location: Dún Laoghaire, Dublin
Contact:
Four spot bar
, drilled for the largest lamps, four point bolt mounting.
Works Rally Style.
more images:
https://www.adverts.ie/parts-accessorie ... r/26650385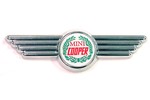 Signature still awaiting top-coat and lacquer....
Users browsing this forum: No registered users and 2 guests