Welcome to the Irish Mini Owners Club Forum. Keep an eye out of on coming events!!!!
Moderators:spud1979, The Marcos Graveyard, admin, Moderators
NON Member
Posts:2109
Joined:Tue Jul 18, 2006 11:15 pm
Whats your location?:Dún Laoghaire, Dublin
Region:Eastern
What Minis have you?:'93 SPi cooper
Location:Dún Laoghaire, Dublin
Contact:
Mini Adjustable Rear Camber Plates - WITHDRAWN
Adjustable rear camber plates. complete with correct recessed allen key heads.
€22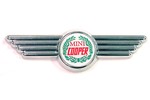 Signature still awaiting top-coat and lacquer....
---
Users browsing this forum: No registered users and 1 guest